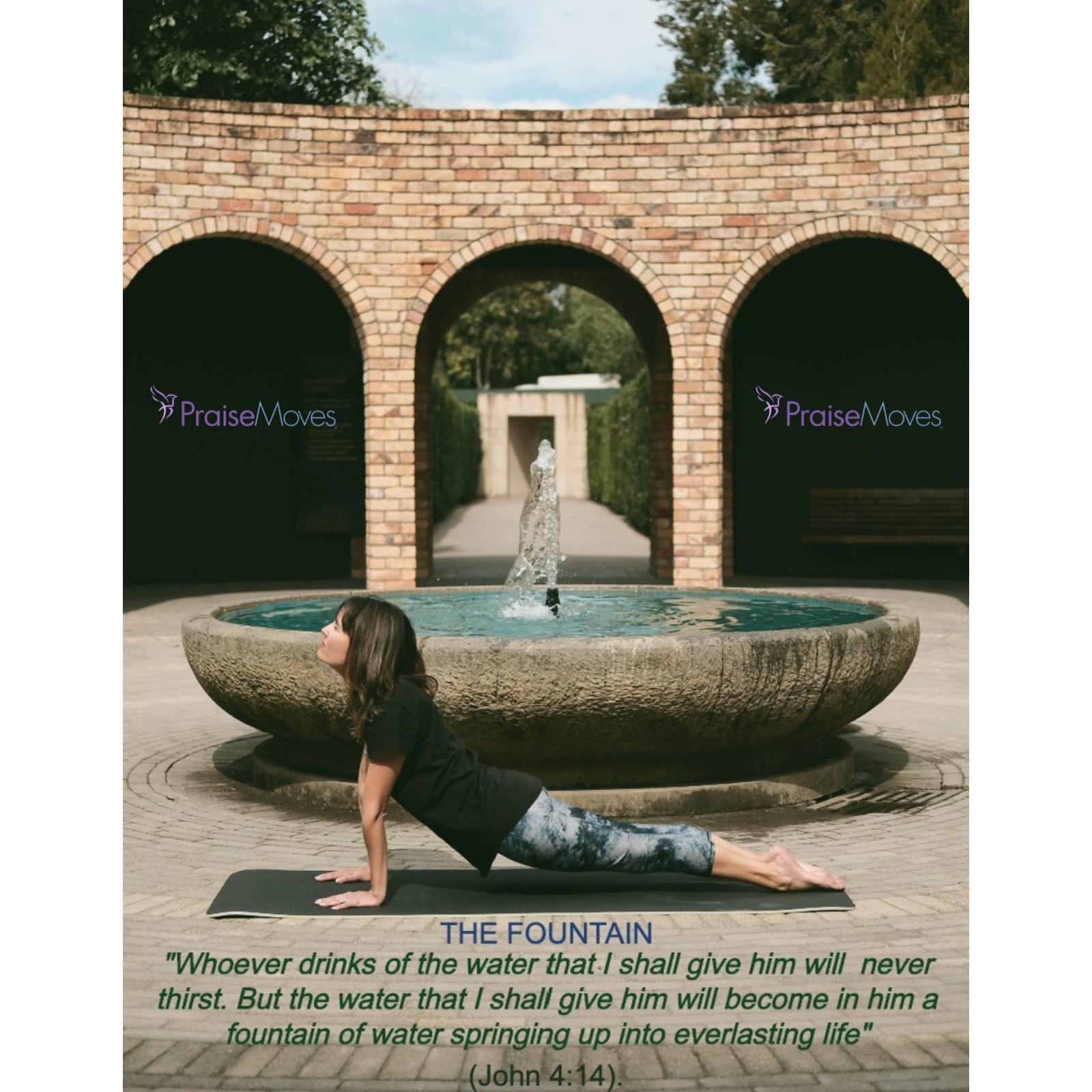 Get ready to praise and move like never before! We are thrilled to announce the grand opening of our brand-new PraiseMoves Fitness Ministry website.
This is a momentous occasion for us, as it marks the beginning of a new chapter in our journey to promote physical and spiritual well-being through the power of faith and fitness.
For those unfamiliar with PraiseMoves, since 2001, we've offered THE Christian ALTERNATIVE to yoga, an innovative fitness program where we meditate upon and speak the Word of God while doing stretching and strengthening exercises. We now have 9 additional Christian fitness exercise classes you can experience and have a *blessed blast*!
Transform your workouts into worship!
(In the photo above, Suskia van der Merwe, CPI of New Zealand beautifully demonstrates The Fountain posture. Jesus said to the woman at the well, "Whoever drinks of the water that I shall give him will never thirst. But the water that I shall give him will become in him a FOUNTAIN of water springing up into everlasting life" - John 4:14).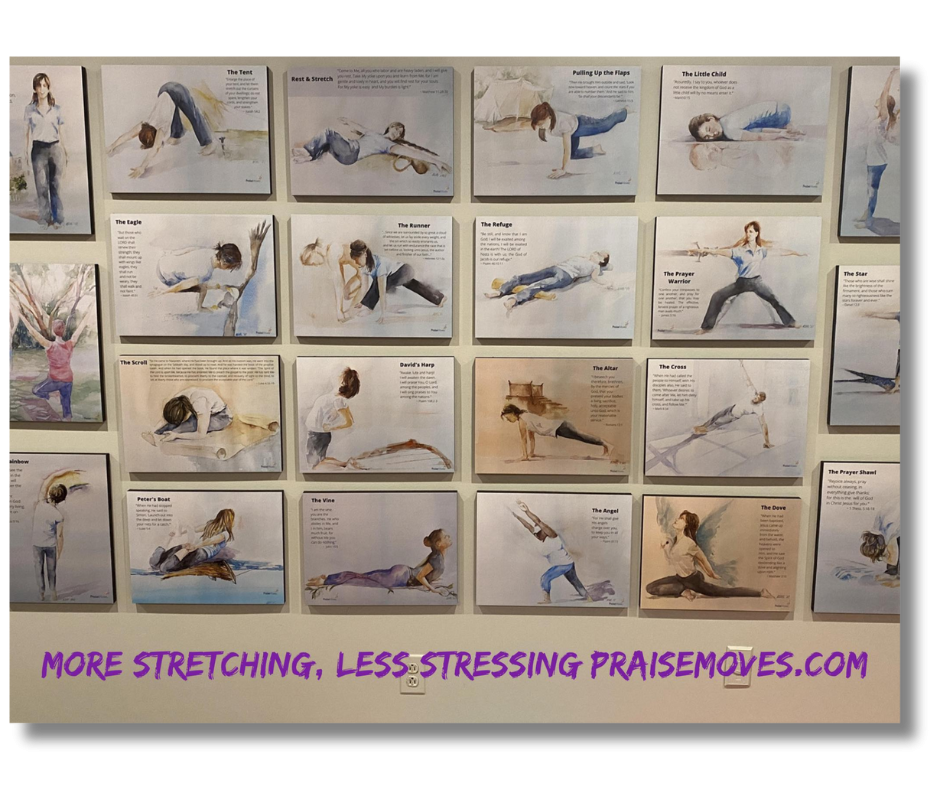 Through the beautiful and empowering language of Scripture, we have developed a unique way to exercise both body and spirit. And now, with the launch of our new website, we are taking our mission to the next level.
One of the most exciting features of our new website is the abundance of resources it offers to help you fully immerse yourself in the world of PraiseMoves.
Whether you are a beginner looking to try out a few moves or a seasoned practitioner seeking to deepen your Praisemovin' practice, you will find a wealth of information, videos, and tutorials to guide you along.
We have an expanded team with hundreds of dedicated Certified PraiseMoves Instructors around the globe; women and men who are passionate about sharing the benefits of PraiseMoves with others.
Go to the
Classes
section to find a Certified PraiseMoves Instructor near you or hop into an online class to join in the fun. You'll feel right at home with our CPIs and enjoy the sense of community that comes from working out together in faith.
But wait, there's more! 😆
Our new PraiseMoves website also features a blog where we will share stories, tips, and inspiration from the world of Christian fitness. Stay up to date with the latest trends, discover healthy recipes, and read testimonies of transformed lives.
This blog is more than just a collection of words – it is a testament to the truly remarkable impact that PraiseMoves has had on countless individuals around the world —Plus I'll share the truth about the dangers of yoga and New Age spirituality you may not find anywhere else.
If you're ready to take the leap and embark on this beautiful journey of wellness and worship, comb through our website now and explore all we have to offer.
Sign up for "The Truth About Yoga" eBook on the
Homepage
, plus you'll receive updates and exclusive content directly in your inbox. Trust us, you won't want to miss a single beat.
To celebrate the launch of our new PraiseMoves website, we are offering a special 25% off all the products in our
Store
with the code GRAND25. But hurry, this special discount is only available through September 15, +2023. This is the perfect opportunity to bring the uplifting power of PraiseMoves into your home.
We cannot express enough how thrilled we are to have you join us on this remarkable adventure. Together, let's embrace the joy of movement, deepen our connection with the Lord, and transform our lives from the inside out. So what are you waiting for? Let's praise, let's move, and let's glorify the Lord!
While you're here, check out our new home and get ready to experience fitness like never before – the faith-filled PraiseMoves way. 🙌💕🥳💕🙌
* By the way, the beautiful PraiseMoves watercolors in the photo above by anointed watercolor artist and Certified PraiseMoves Instructor Arlene Lumbao depict the 22 core PraiseMoves postures and are available in the
SHOP